Movie: Airlift
Cast: Akshay Kumar,Nimrat Kaur
Director: Raja Krishna Menon
Music director: Amaal Malik,Ankit Tiwari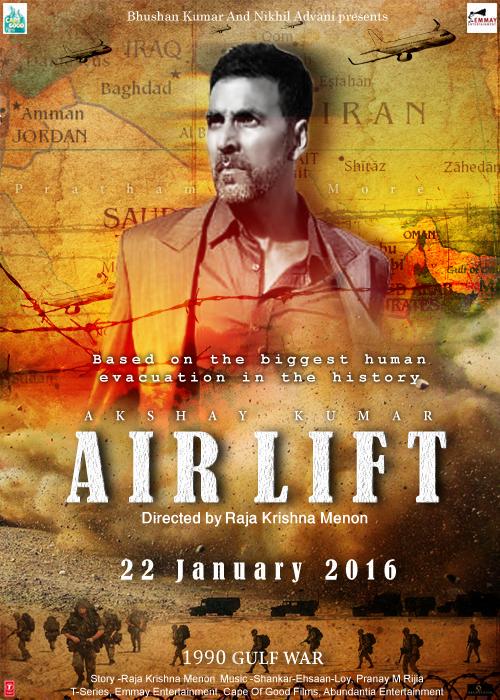 1.Soch Na Sake-Arijit Singh,Tulsi Kumar,Amaal Malik
Soch Na Sake is a lilting melody in the brilliant voices of Arijit Singh and Tulsi Kumar. The singers render a beautiful aura to the mellifluous tune with their honey-dipping voices. Amaal Malik weaves a composition that is sure to melt the hearts of the listeners and become an instant hit. This adaptation of Hardy Sandhu's Soch will be on your playlists for a long time!
2.Dil Cheez Tujhe Dedi-Ankit Tiwari,Arijit Singh
The album veers off to a dance number that is instantly addictive right from the beginning. Ankit Tiwari composes this track which sees the use of Arabic instruments and words in the lyrics. The catchy phrase 'Dedi Dedi' is sure to get on to your nerves after a few listens. Arijit Singh's voice for this song suits aptly and he makes the number more enjoyable. Chartbuster!
3.Mera Nachan Nu-Brijesh Sandhilya,Divya Kumar,Amaal Malik
A foot-tapping Punjabi track is up next. Divya Kumar lends soul to the number with his flawless singing while Brijesh Sandhilya and Amaal Malik complement him well. Though the song has traces of previous Punjabi numbers in Bollywood, it is still engaging with the free-flowing tune and upbeat rhythm pattern. Let the celebration begin!
4.Tu Bhoola Jise-K.K
Patriotic beats and orchestration in this number welcome the listeners in a grand manner. But soon the melodious progression of the song takes over, with K.K crooning the lines soulfully. Though the number is a situational one, it is sure to be a tear-jerker, when played on the screens.
5.Soch Na Sake (Solo Version)-Arijit Singh
This version of Soch Na Sake is a direct rip off from the original one. There is no changeover in this version and you get to listen the same Arijit Singh crooning the lines with passion. However, it is a bliss to listen to this heartmelting melody once again in the soundtrack.
Verdict:
Though the movie has a serious tone to it, it is musically rich with the numbers turning out to be chartbusters. Kudos to Amaal Malik and Ankit Tiwari!
Rating: ***3/4
Picks:
Soch Na Sake,Dil Cheez Tujhe Badi,Mera Nachan Nu