Movie: Dilwale
Cast: Shah Rukh Khan,Kajol,Varun Dhawan,Kriti Sanon
Director: Rohit Shetty
Music director: Pritam Chakraborty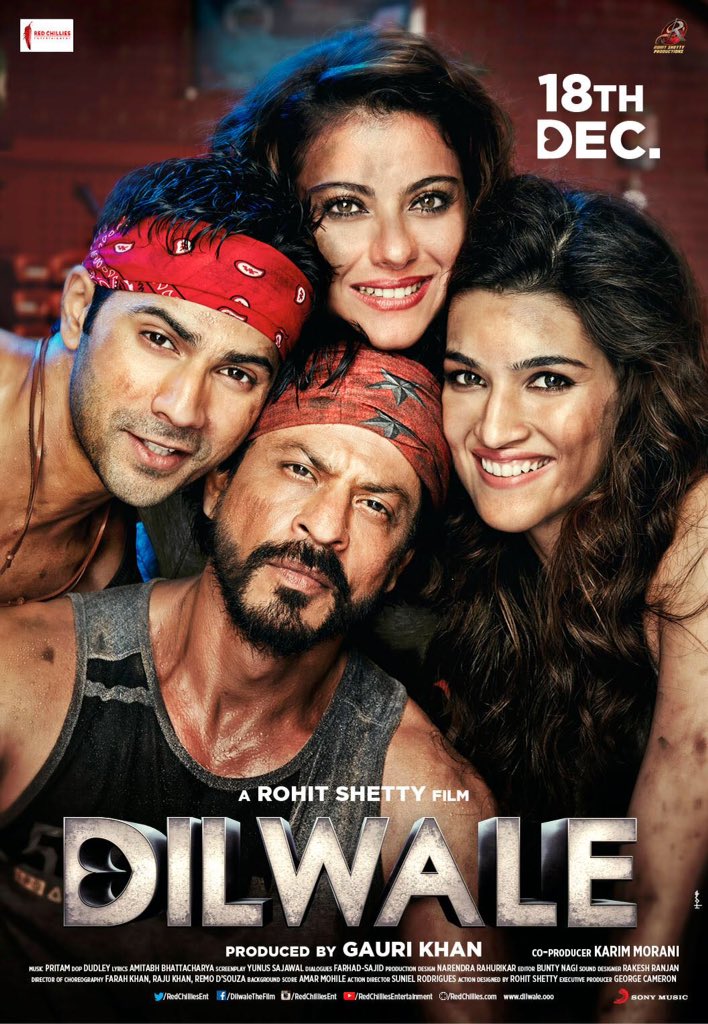 1.Gerua-Arijit Singh,Antara Mitra
Beginning with interspersed pan flute sections, this simple and sweet melody will blow your mind away right from the beginning. It will make you imagine of picturesque locations, just like shown in the video of the song starring the ultimate reel lovebirds Shah Rukh Khan and Kajol. Arijit Singh's soprano singing will melt your heart while Antara Mitra's honey-dipping rendition will make you want more. Pritam makes the song even more scintillating by weaving heartwarming interludes. Indeed a love anthem!
2.Manma Emotion Jaage-Amit Mishra,Anushka Manchanda,Antara Mitra
Pritam comes up with a party number for the younger pair Varun Dhawan and Kriti Sanon. Though the song has a cool and contemporary tone to it, it falls flat when it comes to being instantly addictive. And Pritam tries to make it interesting by adding the occasional electronic flute loops. It's Amit Mishra's show all the way while the ladies have very less to croon here. This track might do well with the visuals.
3.Janam Janam-Arijit Singh,Antara Mitra
Brilliant symphonic violin arrangement welcomes the listeners to this dreamy 90s-like melody. The melodious tune is haunting while the rhythm is sure to instantly strike a chord. And once again, Arijit Singh renders with elan, delivering the emotions of love in a melancholic manner. Antara Mitra's mellifluously husky voice is pleasant on the ears and adds to the serene mood of the track. A chartbuster love ballad from Pritam!
4.Tukur Tukur-Arijit Singh
For those who love funny and cheesy tracks, this one is sure to stay in your playlists for a long time. The song is completely foot-tapping with the addictive 'tukur tukur' chant and the Goan style beats. The hero of the soundtrack Arijit Singh excels with his quirky rendition, amply supported by chirpy chorus and dulcet guitar strums. When there were melodies all the way, this song adds color to the album.
5.Daayre-Arijit Singh
Once again Pritam strikes with a heartrending melody. This song would be played during a few bittersweet moments of the lead pair. The breezy tune in addition to the soulful rendition by Arijit Singh and the tranquil modernized beats makes this song a gem in the album. This number is sure to grow on the listeners with each listen. Scintillating one this is!
6.Premika-Benny Dayal,Kanika Kapoor
When you see names like Benny Dayal and Kanika Kapoor, you would know that you're in for a treat. Yes, this number is the ultimate party track that is found in almost all Bollywood albums of these days. With racing tempo, housemix beats, engaging 'premika' phrase, pepped up rendition by the lead singers, this song is already a chartbuster in itself. Get on the dance floor!
7.Theme of Dilwale (DJ Chetas Mix)-Arijit Singh
There is nothing much to brag about here. It's a mashup of all the above mentioned songs with Arijit Singh's voice occasionally quipping in. DJ Chetas does a commendable job in indulging the housemix techno rhythm for all the songs. Maybe played during the end credits.
Verdict:
Though predominantly melodious, Dilwale is a mixed bag from Pritam. He does justice to this much awaited Rohit Shetty film by delivering an engaging soundtrack.
Rating: ***3/4
Picks:
Gerua,Janam Janam,Daayre,Premika